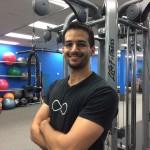 Name: Adam Ali
Education/Certifications:
-B.A. Psychology – Neuroscience Concentration – Research in Athlete Motivation and Performance
-Certified Personal Trainer – National Association for Fitness Certification
-Certified Strength and Conditioning Specialist(Currently Enrolled)
-Dynamic Neuromuscular Stabilization(Currently Enrolled)
-CPR/AED Certified
Experience:
-Performance Enhancement in Athletes
-Training and Program Design for Weight Loss Clients
-Fencing Sport Conditioning Instructor
-Nationally Ranked Competitive Epee Fencer
-Training for entry into the military, law enforcement, and firefighting
-Boot Camp Instructor
Testimonials:
-Joe from Google: My journey with Infinite Fitness began almost 11 months ago, when I redeemed a Groupon for a pack of fitness classes. I never belonged to a private gym before, let alone have a clue on how to use free weights or cross training equipment. At 52, I was in reasonable health, just not fit; and I decided to do something about it before life caught up with me. I met with Adam and we discussed goals, scheduled 2 free training sessions, and signed me up for his boot camp class. Boy, did those 2 free sessions open my eyes to just how unfit I was. I couldn't do even one pull-up. I signed-up with Adam. I trained twice a week, and attended the weekly boot camp class. Adam did a great job of planning workouts, educating me, keeping me focused, pushing when he needed to, and blending in some humor here and there.
Results? Absolutely! I now have working muscles that I never knew existed. I won the 2016 IF summer men's fitness challenge. I can run off a dozen pull-ups …. no problem. I feel great!
Thanks to Adam and the staff and clients at Infinite Fitness!
-Jessica H. from Yelp: The Infinite gym is the best gym community I've had the pleasure of being a part of and it is just that, a community. Everyone (staff and clientele) is kind, helpful and supportive. When I decided to join, I was paired with Adam for my weekly personal training sessions. If you're looking for someone who can help you transform your life and coach you through a healthy lifestyle change, he is your guy. His approach is well rounded – supporting healthy eating habits, custom workout routines and coaching you through those dreaded mental blocks. I asked Adam to be my accountability partner, coach and fitness knowledge mentor – he has exceed my expectations with his thoughtful, yet no excuses approach. He has been essential to my fitness journey and if you're looking to start or continue your journey – he's a great copilot.
-Rin B. from Yelp: Small gym, but super friendly staff. They take into account what you want to achieve and take a very patient, encouraging approach. I train with Adam, who is informative and fun to work with! Rather than rushing me straight to the weight bench, he evaluated my weight-lifting goals as well as my weaknesses, like my alignment, and tailored my workout around them, so that we can build up to my goals in a healthful, gradual way, strengthening my core and alignment first to avoid injuries. And we continue to adjust the workout as we discover new strengths or weaknesses. I definitely feel like health and well-being is a priority here, and I'm looking forward to reaching my goals! Also, the boot camps are grueling but fun! Everyone is really friendly and supportive of each other. Definitely try the trial training sessions!